Richard Deitch of Sports Illustrated is reporting that former Eagles defensive end Hugh Douglas is no longer an employee of ESPN:
"The former NFL player and Numbers Never Lie panelist was let go by ESPN today after disturbing details emerged last week from Deadspin and The Big Lead regarding an alleged confrontation between Douglas and ESPN Numbers Never Lie host Michael Smith at the National Association of Black Journalists Convention and Career Fair in Orlando."
The 'confrontation' in question was a previous incident in which Douglas, intoxicated at an Orlando club with several co-workers, threatened three different times to beat up his co-host of "Numbers Never Lie," Michael Smith.
Douglas had apparently tried to climb onto the stage where a DJ was performing, then began shouting at Smith, also an African American, when he did not join him. Racial slurs followed, including "Uncle Tom" and "House [N-word]."
PREVIOUS: Hugh Douglas threatens, yells slurs at ESPN colleague Michael Smith
ESPN was criticized for the racial nature of the squabble, having offered limitless coverage of Eagles receiver Riley Cooper's racial comments, only to call Douglas' use of slurs aimed at Smith an "internal" matter.
Douglas tweeted the following after the news of his release broke: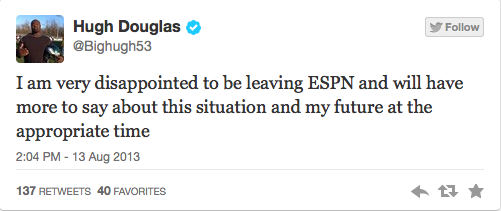 More to come...