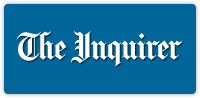 Food stamps nationwide will be cut by more than $8 billion over the next 10 years, with a significant portion of the decrease borne by Pennsylvania and New Jersey residents - many of whom are disabled, elderly, or children.
A Senate vote of 68-32 on Tuesday afternoon sent the so-called Farm Bill to President Obama after three years of wrangling in both houses of Congress. Obama is expected to sign the legislation, which will have the effect of cutting $8.6 billion in food stamps from 850,000 U.S. households in the next decade.
Advocates for the poor decried passage of the measure, saying the cuts - which follow $5 billion in reductions to the food-stamp program on Nov. 1 - are too much for low-income people to bear.
In Pennsylvania, roughly 175,000 households will lose an average of $65 a month, resulting in a statewide benefits loss of $136.5 million a year for 10 years, according to calculations by the Greater Philadelphia Coalition Against Hunger.
In New Jersey, an estimated 157,000 households will have their benefits cut, said Adele LaTourette, director of the New Jersey Anti-Hunger Coalition. State officials said Tuesday that they had not calculated the monetary cost. The average monthly loss per person nationwide is estimated to be $90.
"This is just a one-two punch for a lot of folks," said Julie Zaebst, policy manager for the coalition.
Steveanna Wynn, head of SHARE Food Program, which supplies food to Philadelphia food pantries, agreed.
"The war on the poor continues," she said. "People get up each day and it's worse than the day before."
Both Pennsylvania and New Jersey are bearing a disproportionate share of the cuts, Zaebst said.
The states are among 15 that operate the "Heat and Eat" program, which coordinates energy assistance with the food-stamp program, now known as SNAP (Supplemental Nutrition Assistance Program).
The SNAP cuts will occur primarily in Heat and Eat states. Opponents of the program say it's a way for people to take advantage of federal largesse. Advocates for the poor call it a vital service, the cuts to which will hurt the most vulnerable Americans.
Many see Tuesday's vote as a compromise between initial Democratic and Republican proposals. The Democrats first asked for a $4 billion cut over 10 years, while Republicans wanted to slash $40 billion over that period. The food-stamp program distributes roughly $80 billion annually.
Of the four senators in New Jersey and Pennsylvania, only Robert Menendez (D, N.J.) voted for the bill, saying in a statement that it was better than the Republicans' "unconscionable effort to gut the program." He added that the bill contains agricultural benefits for his state.
Sen. Pat Toomey (R, Pa.) voted against the bill, saying it "continues to subsidize big agribusiness." In a statement, he also indicated that the cut to SNAP was not large enough.
Sen. Cory Booker (D, N.J.) voted against, saying it could "cause further harm to people."
In an interview Tuesday, Democratic Pennsylvania Sen. Robert P. Casey Jr. said he could not support the bill, a decision he said he reached after conferring with Witnesses to Hunger, an advocacy group of low-income women based in Drexel University's School of Public Health.
"Rarely has one group of folks had more impact on how I look at an issue," Casey said. "The witnesses told me compelling stories of their real lives."
Those stories are echoed throughout the area.
June Dove, 50, a Camden woman with a bachelor's degree in computer science, was laid off from an accounting job at the same time that her daughter, who lives with her, lost time from her pet-grooming job after sustaining serious injuries in a car accident. Dove's daughter, Katrina Arevalo, 21, the mother of a 3-year-old boy, normally gets $99 in SNAP benefits.
"The cut will affect us drastically," said Dove, who said the family is being evicted from their rowhouse because they fell behind on rent. "Those food stamps were how we got my grandson fruit and milk."
Dove said she used to volunteer at the nearby Touch New Jersey Food Pantry to help the less fortunate. With these cuts, she'll be a client, she said, adding, "It's amazing how fast the tables turn."
Conservatives say that SNAP is bloated and rife with fraud. Others disagree. "They only reveal their ignorance," said Mariana Chilton, hunger expert at Drexel, saying that SNAP records less fraud than most federal programs.
Diane Riley, an advocate with the Community Food Bank of New Jersey, said "there's no way" food pantries can cover SNAP cuts.
---
alubrano@phillynews.com
More